September 13, 2023
2 min read
The Transifex team has some exciting news to share. We've been recognized again as a top Translation Management Software (TMS) vendor and awarded a remarkable 44 badges in G2's latest roundup of leaders in the category. 
Being named the #1 Software Localization Tool in North America, we're leading the way, outperforming over 30 competitors. Plus, earlier this summer, we clinched the top spot for user satisfaction in Translation Management.
Our Leader position spans additional G2 categories including Website Translation Tools, General Translation Management Tools, Software Localization Tools, and Computer Assisted Translation (CAT) Tools.
Why does this ranking matter so much? Because it's grounded in real customer experiences. G2 uses a unique mix of Satisfaction and Presence scores. For gauging satisfaction, G2 takes into account average star ratings, review number, recency of reviews, and source of reviews. Market presence includes factors like number of reviews, growth, web and social presence, age and employee satisfaction/engagement.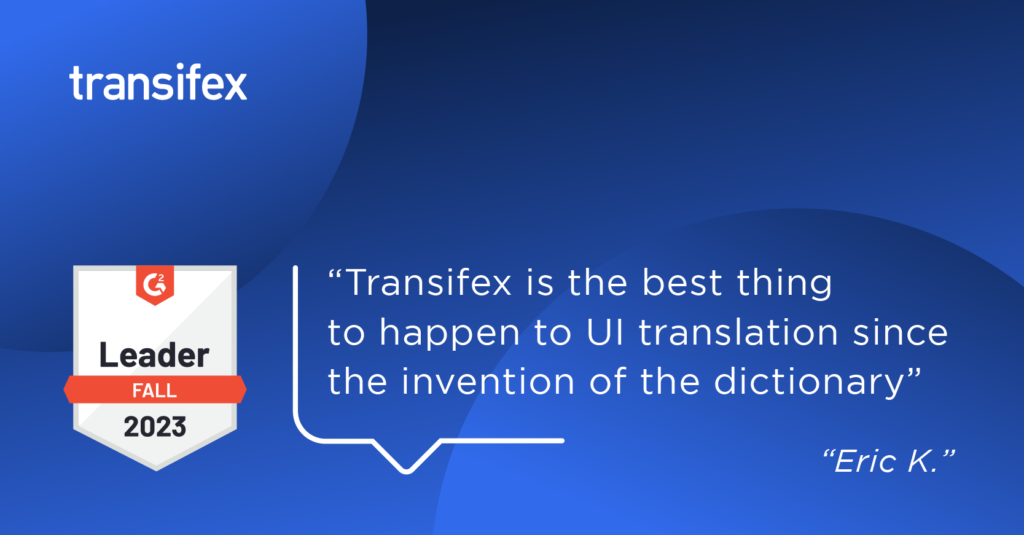 This recognition is a testament to the dedication and relentless efforts of the entire Transifex team. It's also a nod to our loyal customers that place their trust in our capabilities, enabling us to help them cater to a globally diverse, multicultural, and interconnected audience.
''Transifex offers a very simple to integrate, and simple to use translation and localization tool for web-based apps and websites."                                                                                                                                                                     – Clark H. 
We encourage you to reach out to our localization experts today to discuss your multi-language engagement challenges and goals.