Upcoming Webinar: Best Practices for International SEO
Table of contents
Webinar: Best Practices for International SEO
One of those really difficult aspects of localizing your website is addressing SEO for all your locales. We get tons of questions on this — from prospects, customers, attendees at our last webinar, people we meet — so we understand that it's a critically important topic for both web marketers and web developers. To help answer all these questions, we're announcing our next webinar, "Best Practices for International SEO" on April 27 at 10 am PDT.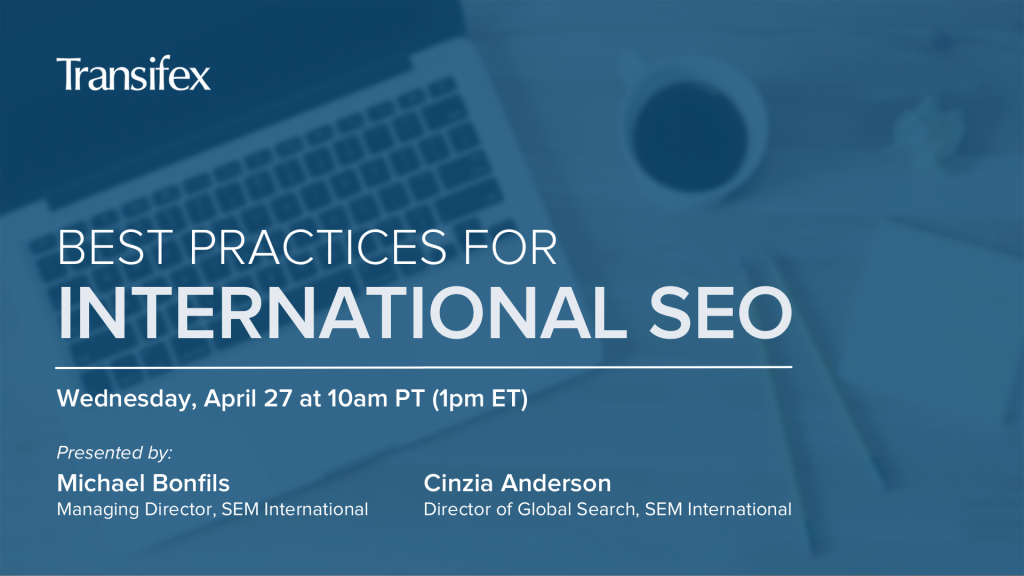 In order to answer all these questions with as much clarity as possible, we've partnered with SEM International to provide you an hour chock full of pointers on international SEO implementation. Our topics include:
How to perform keyword research for your locales

Content localization considerations to support SEO goals

International user experience

Technical aspects of international SEO like structuring your international URLs, appropriate tagging, backlinking and redirects
Our presenters from SEMI are Michael Bonfils and Cinzia Anderson, bringing a combined 45 years of experience in international digital marketing and operations. Starting in 1996, Michael has helped pioneer best practices in the global digital marketing industry and has been involved in leading innovations in technology advertising. Cinzia, with fluency in 4 languages and deep search optimization expertise, has a proven track record for building high net worth accounts in global markets, aligning businesses with different cultures, and leading SEO programs for both fortune 500 companies as well as smaller businesses. Michael and Cinzia, along with their associates at SEM International, focus on worldwide digital marketing campaigns custom tailored for agencies and multinational corporations.
Have specific SEO questions you'd like to make sure we cover? Email us or comment below to provide your input.
Webinar: Best Practices for International SEO
This webinar presents practical advice and approaches for executing an international SEO program that puts all your global sites in a position to rank and generate traffic.

REGISTER TODAY