Introducing Multiple Custom Placeholders And Some Editor Goodies For Translators
Table of contents
More Transifex Editor Goodies For Translators
August 2, 2018
2 min read
The content localization process usually requires files from various sources or your own code with customizations that specifically fit your needs. For most organizations that have launched their localization efforts, these customizations can include variables or custom code that should be left untouched during translation.
To protect the integrity of your translated content, Transifex now offers custom translation checks with the ability to add multiple custom placeholders for your file formats.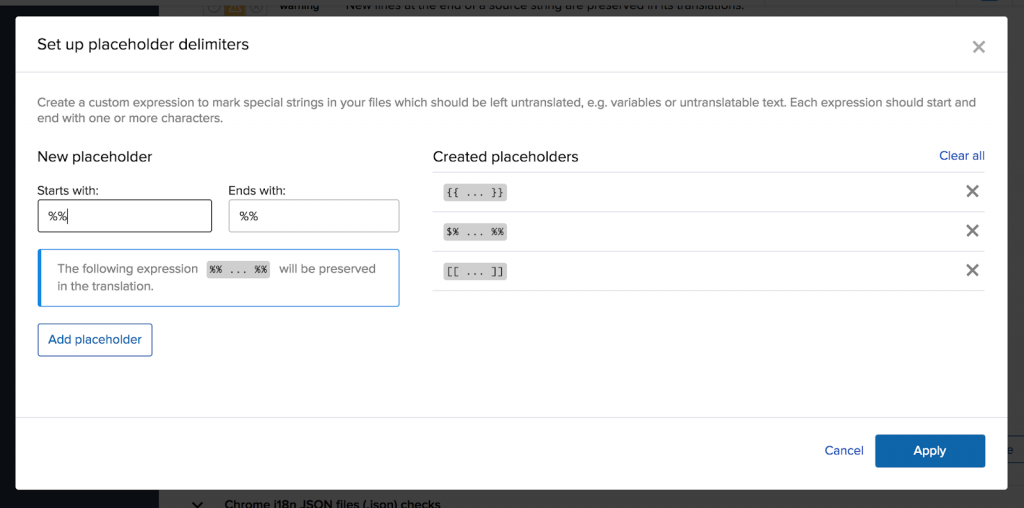 To add, preview, or delete custom placeholders, visit your organization's Translations Checks interface. Read more about customizing translation checks and checking for custom variables.
More Transifex Editor Goodies For Translators
When working in the Editor, now you have three new options to speed up your workflow and increase translation quality:
You can now follow the Translation Memory (TM) suggestion for a string back to its source, then edit it in the Editor – by using the link added/available for each suggestion!
You can instantly copy the top suggestion from Translation Memory to help you translate a string: select a string you want to translate, and use the Ctrl+Shift+u shortcut to copy the top suggestion from Translation Memory to the translation area.
You will never lose leading or trailing spaces again, as now it's easier to see the spaces in the strings when reviewing! Open your Editor Preferences window and activate the "Display spaces" option to view all spaces in strings as dots.
…….
We're happy to offer these latest product updates to our amazing users. Stay up-to-date with the latest Transifex features and check out the What's new in Transifex page.
---
Localization Best Practices for Developers
We know that a developer's role in the localization and translation management process can be a difficult one if you don't have the right workflows in place. To help, we've put together a guide highlighting the practices that the best development teams put into place to streamline the localization process — from integrating localization into build cycles to tricks for avoiding string freezes. Download the free guide to learn more.