September 20, 2021
3 min read
Translation Memory (TM) Management is a smarter way to manage Translation Memory so that you have a cleaner, more accurate TM database. Here is all you need to know about it!
What is Translation Memory? 
Translation Memory is a piece of software within Transifex. Its job is pretty simple. All it does is store completed translations in its database, and if you have auto fill-up enabled, it automatically translates similar translations so that your translators won't have to. 
Of course, the way that it determines which translations can be automatically filled up is actually a lot more sophisticated. If you want to learn more about it, feel free to explore our dedicated post about Translation Memory and everything that it offers!
The Benefits of Having a Clean TM Database
If you want to maintain a clean Translation Memory database, TM Management is an essential step forward.
Keeping your TM up to date by deleting wrong entries is a great way to improve accuracy, reduce manual labor, and, as a result, increase efficiency. 
What is Translation Memory Management? 
TM Management is an upgrade of the "Search and remove strings from the Translation Memory" option under your Transifex settings. As mentioned before, it's a smarter way to manage your TM database. 
To be more precise, it offers four major advantages compared to its predecessor. You can now: 
Filter TM entries based on your selected criteria

Delete multiple entries by using multiple selection

Get more details for each TM entry 

Find the TM entry's translation via a shortcut that leads to the editor
Filters
First of all, you can now filter what TM entries appear based on: 
Project

Target language

Source Text

Date of use

Added by (User)

Translated by (User)

Action Source  (Translation, Review, TMX Upload)

Multiple Selection
Multiple Selection gives you the option of deleting multiple TM entries in one go, which should make getting rid of "bad" translations much easier. 
And you can easily do that by selecting which entries you want to delete by ticking the boxes to the left of them.

Details
Clicking on the exclamation mark icon gives you more information about the selected TM entry, such as word count, action source, and the user who performed the original translation.

Editor Shortcut
Last, but not least, you can now effortlessly find the translation that created the TM entry thanks to TM Management's shortcuts.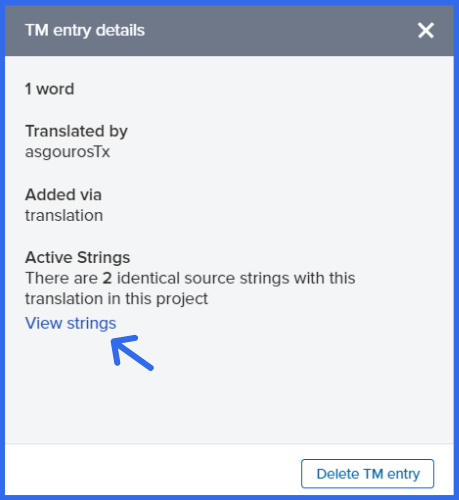 With all these new options at your disposal, we hope you'll have an easier time managing your Translation Memory database. 
How to Find TM Database
If you are an admin, you can find TM Management under your: 
Project settings

Manage Translation Memory

Coming Up
The Transifex team is always working hard to provide you with the best user experience. Our next update is going to be giving you even more options, such as: 
Getting a TM leverage report on a project level

Edit existing TM entries

Manually add new TM entries

Allow auto fill-ups for <100% matches

And setting TM priorities
Stay tuned!