Webinar: Getting Started with Web App Localization
Table of contents
Mark Your Calendars for March 9, 2016
February 1, 2016
2 min read
Transifex is excited to announce our first webinar of 2016! Our speaker will be Dr. Johann Roturier, translation and localization expert and author of Localizing Apps. In this webinar, startups and companies that are thinking about international expansion for the first time can:
Learn more about the conceptual framework for web app localization
See the actual localization process in action via demonstrations with two web apps
Have ample time to ask questions about their specific localization challenges
Mark Your Calendars for March 9, 2016
If you're interested in learning more about web app localization, the 60-minute webinar will be held live online on March 9, 2016 at 8am PST.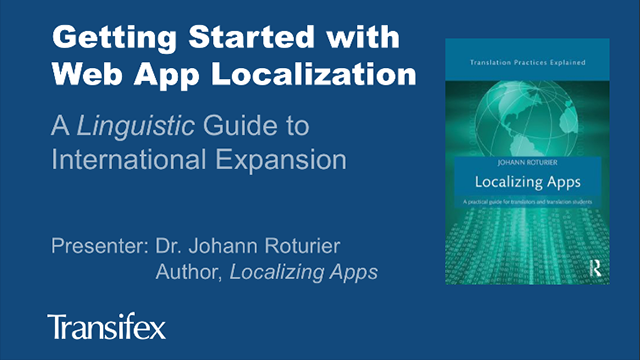 Please make sure to register — even if you can't make the scheduled event, we'll be sharing all the webinar materials and a link to the webinar recording with all registered participants.
About the Speaker: Dr. Johann Roturier
Dr. Johann Roturier, Ph.D., is a natural language processing researcher at Symantec Research Labs with more than ten years experience in the localization and IT industries. Along with localization, Dr. Roturier specializes in machine translation, computational linguistics, natural language processing, and open-source development software. He's also a member of the editorial board of the Machine Translation journal and is working on projects with external government agencies, businesses, and universities.