January 6, 2016
9 min read
A new year calls for a new start! You're refreshed after holiday festivities and ready to make 2016 one for the books with more customers, sales, and profits. A great way to achieve these goals is by increasing customer touch, meaning increasing your direct interaction with both prospects and current customers. And what better way to speak to customers, especially those outside your home country, than through email?
Like most things, sending international emails comes with a list of to-do's and not-to-do's, and the not-to-do's can carry heavy penalties like fines more than $16,000 per email sent! To help you reach the most customers possible in 2016, while also avoiding any costly penalties, we're sharing the top five international email best practices.
1. Tailor emails for each country.
The biggest issue from the email perspective is being compliant with the email regulations of different countries, particularly the European Union and Canada.
European Union
You generally can't send direct marketing emails to individuals in the European Union without prior consent (i.e. willing subscribers). While the European Union does have some general anti-spam legislation, the specifics of such laws can vary from one country to another. The table below highlights important things to know when sending emails to countries in the European Union: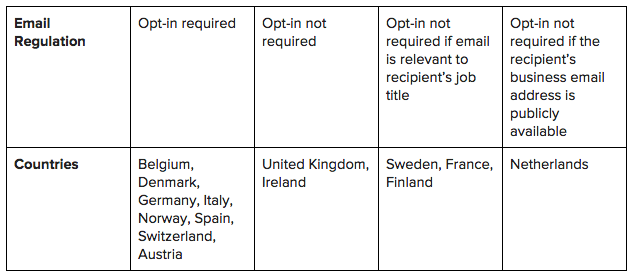 When sending emails to any of the countries within the European Union, you must always provide a functional opt-out option where any user that opts-out will be taken off your email list forever. To protect yourself fully, it's best to check the anti-spam laws of each geographic region you intend to send marketing emails to, creating checklists of the specific laws of each country.
Canada
CASL (Canada's anti-spam legislation) was created with the goal of protecting Canadians while ensuring that businesses can still compete in the global marketplace. Named by many as the strictest, most aggressive anti-spam laws in the world, the fines for violating CASL can be up to $10 million per violation, and companies who are found using false sender information to intentionally mislead recipients can also face criminal charges.
The laws are most strict in regards to opt-in requirements. In addition to requiring opt-ins from users for marketing emails, the law applies to all commercial electronic messages including social media direct messages, text messages, instant messages, and voice messages.
The CASL went into effect on July 1, 2014. Canadian and international companies were given a three year transition period to gain implied or expressed consent from customers and prospects. After the law goes into full effect on July 1, 2017, implied consent is no longer valid, and expressed consent is necessary for contacts captured both before and after the July 1st date. The difference between implied and expressed consent are listed below for clarity:
Implied – Implied consent is when a potential recipient hasn't explicitly given consent to receive emails or other communications, but some previous relationship between a recipient and a business exist. For instance, a recipient may have bought or leased a product or service, or made a business deal, entered a contract, or signed up for a membership. In the case of registered charities or non-profit organizations, a recipient has made a donation or volunteered. Implied consent also applies when an email address is indirectly given or openly published and a recipient hasn't made it clear they do not want to receive communications from a business.
Expressed – Expressed consent is when a potential recipient explicitly gives written or oral confirmation to receive emails or other communications from a business. When a potential recipient gives consent, they must have access to the sending company's name, address, website, and phone number. Users must also have a clear understanding of the email provider that is sending the emails and that he or she can unsubscribe at any time.
Other Countries
United States
In the United States, the CAN-SPAM Act covers all commercial messages (any email with the goal of advertising and/or promoting a product or service), and states businesses should never use false or misleading header information or deceptive subject lines. The message also needs to be identified as an ad, share where a business is physically located, have a functional opt-out feature, and opt-out requests must be honored promptly.
Australia
The Spam Act of 2003 is Australia's way of protecting users from unsolicited commercial electronic messages. Messages must include clear and accurate information about the sending party, can only be sent to users with their expressed or inferred consent, and must also have a functional opt-out that is honored by a business within five working days. The only messages that can be sent without consent under the law are messages from government bodies, registered charities, registered political parties, and messages from educational institutions to former or current students.
Asia, South America, and Africa
Most countries within these continents are known to have looser email send requirements, with no comprehensive legislation in place. That said, all require an opt-out notice, and if you intend on sending messages to users in these areas, additional research should be conducted on each country's individual rules and regulations.
2. Focus on email deliverability.
What's the point of sending emails if they're not being delivered and read by your target audience? Things like unsubscribe rates and spam reports can affect your sender score (an indication of the trustworthiness of your IP address). When you have a low sender score, some internet service providers (ISPs) will block and prevent your emails from being delivered to customers and potential leads. To prove your IP is valid, send a small batch of emails to individuals who you know will engage with your content. When these emails are delivered, opened, and clicked on by recipients, ISPs will cite you as a credible and trustworthy source. You can then increase the number of sent emails to enhance visibility, gain new leads, and increase revenue.
It's also important to keep clean target lists to ensure that you do not continue to send to addresses that have bounced (i.e. perhaps a recipient has left the company). Most of the time, your email marketing automation software will suppress these types of addresses, but it's important to make sure these addresses are being removed manually so you don't destroy your ISP credibility. Another tip is to download your list of bounced addresses, carefully looking over them to identify a trend or specific reason for the bounce. All of these things can lead to higher deliverability and more exposure for your business!
3. Don't overlook the design of your emails.
When designing an international email template, there are a number of things to consider aside from general design best practices like having a simple design, using tables for layouts, using inline styles, and naming all images with alt tags. International email templates need to:
Have flexible text areas. When you translate content into other languages (from your source language to your target languages) the length of your sentences may change and thus, impact overall design. To avoid this issue, flexible text areas need to be used, not only for the main text boxes, but for header areas as well. Design will also be affected if you're translating content into a language that is read from right to left.
Skip images with embedded text. Because it's difficult to translate text that's embedded into an image (translating the image text and saving and uploading the image for each new language), it's often easier to skip these types of images entirely. And if you're outsourcing design work, this could save you a few dollars too!
Use bulletproof buttons. Most email programs allow users to disable images, with some even disabling images automatically. To make sure your email can still be read and that important call-to-action (CTA) buttons can still be seen if images are blocked, use bulletproof buttons instead of image-based buttons. This way, if an email program blocks your images, the CTA text link will still appear and function properly.
4. Understand mobile's role in your business.
Point three about the design of your emails is a great lead into point four: understanding mobile's role in your business. It's widely understood that the number of mobile devices and mobile users is growing globally. According to eMarketer, more than one-quarter of the global population used smartphones in 2015 – that's an astounding 1.91 billion users around the world.
While responsive websites, and in this specific use case, email templates should be used to enhance user experience in B2C, in the B2B world, mobile may not be as prevalent. Engagement on mobile is significantly lower than on desktops — who wants to do work-related research "on the go," but a little shopping – sure! Every company needs to look at its own data and reports to determine their main audience and whether or not responsive email templates are needed.
5. Collect data and continuously adapt.
Test, test, test! As with any project, testing is the one stage we cannot emphasize enough. After each email send, review bounce rates, open rates, and see where your users are engaging with your emails the most. This could differ among countries and require changes to content, layout, or design. The most important thing to remember is that all things can be changed and tested so don't be afraid to try new things or A/B test. It will only increase the quality of your international emails.
Interested in providing your users with a comprehensive multilingual experience? Learn more about localizing websites, mobile apps, and more by contacting a team member at Transifex and scheduling a personalized 30-minute demo.